My name is Spencer Laube and this is a hobby , seasonal business I do with my Mom Kyle.  I take care of this site as well as grow lots and lots of tomatoes every year and save the seeds in the fall.
I am hoping to go into Science as a career, and this hobby lets me have fun and money while learning about botany and plants.
We still have tomatoes in June 2019. Look for the sign at the top of the rise on Beach Dr SW just north of Lowman Beach Park in West Seattle. If the sign is not up there that means we are not open to sell at that time. Quantities are limited. Future sell dates:
Tomatoes still left.  We have a self serve station in the garden.  Come down and have a look and you can leave your $3 per tomato in the clay pot on the table or text us to see if we are home. 206 409 8181.

We have 24 left – some only one left – purple calabash, hot tub, pear, yellow perfection, pineapple, purple cherokee, brown salad, currant, pink brandywine.
A big thank you to the Beach Drive Blog and the Seattle Times for writing about our little operation here last year.
For information about what makes a tomato an heirloom, check our latest blog post at the link here.
Price: $3 per plant.
Below is a list of our inventory this season (all varieties are grown organically).
---
Heirloom Yellow Pear
Enormous numbers of yellow bite-sized fruits. This extremely old variety makes a vigorous plant that bears enormous numbers of bright yellow, bite-sized fruit. The flavor is deliciously tangy. Perfect for summer party hors d'oeuvres. Certified Organic Seed. Indeterminate, 78 days to maturity. Plants 6 to 12 ft tall.
---
Heirloom Hot Tub Beefsteak Tomato
Volunteer tomato that grew on our bulkhead exposed to salt spray, so we know it is rather hardy. This is our favorite for growing under windows on the west side. They only get 3 feet tall and it is very easy to pick the medium size beefsteaks that come in the months of July and August. Determinant, 65 – 75 days to maturity.
---
Heirloom Purple Calabash – from the Thomas Jefferson Center for Historic Plants
The culture of the ribbed and scalloped Purple Calabash Tomato dates to pre-Columbian Mexico. It is uniquely acidic, but with a rich and concentrated flavor. Delicious fresh, this tomato really shines in sauces and pastes. Indeterminate, 85 days to maturity. Plants 6 to 8 ft tall.
---
Heirloom Yellow Perfection Tomato
Old British seeds from the 1800s. Great for salads. Thin skin globe shaped 3 to 4 inch fruit. Indeterminate, 75 days to maturity. Plants 6 to 8 ft tall.
---
Heirloom Burpee's Jubilee OUT
A Burpee original—and an All-America Selections winner in 1943. Burpee's Jubilee is the outstanding result of a stabilized, six-generation selection from a cross between Tangerine and Rutgers tomatoes. Up to 3″ across, the bright golden-orange globular fruits are smooth and solid, with a mild delectable flavor. High-yielding plants. Indeterminate, 80 days to maturity. Plants 5 ft tall.
---
Heirloom Pineapple Tomato
Very large fruit, up to 2 lbs each. The yellow fruit has red marbling through the flesh and is one of the most beautiful tomatoes we grow. The flavor is very sweet and fruity; good yields! Indeterminate, 95 days to maturity. Plants 4 – 5 ft tall.
---
Heirloom Pink Brandywine
The Brandywine Tomato is considered the most esteemed late 19th century heirloom tomato, named for a stream in Chester County, Pennsylvania. It has potato-like leaves and large, meaty, reddish-pink fruit. Indeterminate, 75 – 80 days to maturity. Plants 5 ft tall.
---
Heirloom Purple Cherokee
Reportedly grown by Cherokee Indians.  This variety has large one pound fruit, with dark pink with darker shoulders.  It has excellent flavor and slight sweet aftertaste. Indeterminate, 80 days.
---
Pink Moldovan OUT
Honestly a bit of a mystery to us. Received these seeds from a Moldovan family. Tomatoes look like medium sized pink drawstring pouches when ripe. Indeterminate, 65 – 70 days.
---
Brown Salad Tomato
This is a medium salad tomato that does not crack.  Skin and flesh are a red-brown color.  Fruit can sit on counter and continue to ripen.
---
Heirloom San Marzano OUT
Almost no seed cavities—all meat.  The long, blocky fruits mature with a small, discreet seed cavity that can be scooped out, leaving all meat. This means much less boiling to get a first class paste. The shape is also good for canning, and excellent for drying. Indeterminate, 80 days. OUT
---
Heirloom Eva's Purple Ball -from the Thomas Jefferson Center for Historic Plants OUT
late 19th century indeterminate variety originated from the Black Forest region of Germany.  It produces smooth, round, blemish free fruits, which are pinkish-purple in color.  It performs well in hot, humid climates and is resistant to foliar and fruit diseases. 78 days.
---
Sweet 100 OUT
The Super Sweet 100 tomato cultivar is a hybrid that produces long fruit-bearing stems holding 100 or more very sweet cherry tomatoes. Fruits weigh approximately 1 oz., and are 1 inch across. Plants need caging or staking, and produce fruit throughout the growing season. Indeterminate, 65 days. OUT
---
Sun Sugar OUT

The ultimate in cherry tomatoes, this golden-yellow beauty achieves a new level of sugary-sweetness and flavor, superb texture, and a tangy "true tomato" taste. Fruits are a lovely golden-yellow, weigh 1/2 oz., and possess thin skins – remarkable, considering its wonderful crack resistance, even in heavy rains. Heavy early cropper. Indeterminate, 62 Days
---
Heirloom Pruden's Purple – from the Thomas Jefferson Center for Historic Plants OUT
This "Early Brandywine-type" tomato bears very large fruits, which are flattened, smooth, and resistant to cracking. The skin is a vivid dark pink and the flesh bright crimson.  Prudens Purple is a potato leaf variety of medium habit, with fruit that can weight up to one pound. Indeterminate, 72 days.
---
Currant Tomato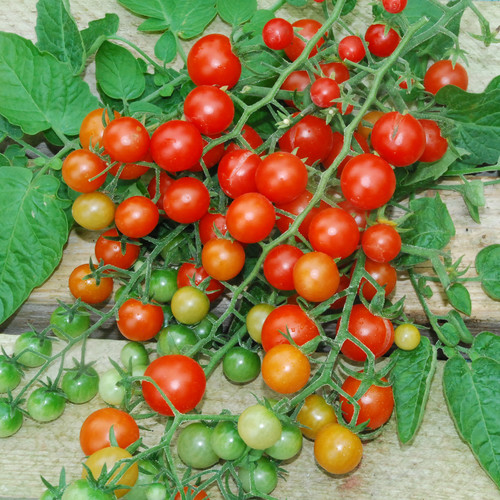 Solanum pimpinellifolium, commonly known as the currant tomato, is a wild species of tomato native to Ecuador and Peru but naturalized elsewhere, such as the Galápagos Islands. OUT